Our Services
The Spirited Gardener will create with you, the uniquely landscaped garden that is yours to grow and enjoy. Choose from the following services:
Consultations/Garden Renovations
An initial visit provides you with written recommendations for ways to lay out your growing and outdoor space to maximize the enjoyment of your garden. We collaborate with you to establish seasonal color and interest in your garden; places to grow vegetables or fruit; and a place to gather with your friends and family to enjoy your own "great outdoors." We'll also suggest ideas for utilizing rainwater that falls on your property and recommendations for composting. Consultations are available at an hourly rate.
Contact us
.
Professional Designs
We'll give you a scaled plan drawing allowing you to best understand the layout for installing your plants and landscape additions. We'll show you how to "phase in" plans, which may seem too costly to do all at once and make better sense to your budget. You'll see how your dream garden can gradually take form. Plans are hand drawn or created digitally on AutoCAD (Computer Assisted Design) depending on the complexity of your project.
Project Management for Installation
I'll aid in arranging for all services you need to install hardscape elements such as seat walls, patios, benches, pots, etc. As a part of being the Project Manager, I can also provide plants, trees and shrubs. I can refer you to talented hardscape companies to install patios, walkways, pergolas and fences.
Maintenance Referral & Follow-ups
If you have an existing property and a maintenance company, I can work with them to train them on using sustainable practices in working in your garden. Natural lawn maintenance for your Spirited Gardener design and follow-ups to address concerns about your garden are all services available to support the growth of your garden.
Contact us
.
FREE Rain Garden Guide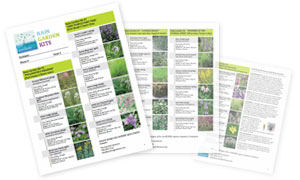 Not sure which plants will work for your particular combination of sun exposure and soil/moisture conditions? We've taken the guesswork out of the equation and put together creative plant combinations that are sure to beautify your yard. Sign up to receive quarterly updates on what we are doing to support the "Greening" of the world around us. Subscribe now! You can unsubscribe at any time.