Featured Gardens Portfolio
Chicago (Andersonville)


ABOVE BEFORE WORK:
This client wanted to expand beds and create "good bones" for a mixed perennial and annual garden.
BELOW AFTER:
Left:
We helped the garage to "disappear' into the background by changing the siding to taupe and framing the window with trellises and plants.
RIght:
A raised bed provided lead free food planting for herbs and tomatoes. The Edenstone drywall provided definition and a sense of flow for bedlines.


ABOVE BEFORE WORK:
This front yard had the challenge of ice ponding right at the entrance of the home from the downspout and alley run-off.
BELOW AFTER:
Left: The Rain Garden utilized on-site daylilies, ammended by carexes, and easily infiltrated water run-off from downspout.
Right: A new paver entrance elevated the walkway and blocked alley water from puddling. The annual pots created a seasonal welcome.
Oak Park, Illinois


ABOVE BEFORE WORK:
Our Oak Park client had a pond they rarely sat by and wanted a patio for entertaining instead.
BELOW AFTER:
Left:
We moved the pond to cycle it's soothing sounds for the owners while seated at the entertainment patio off of the back porch.
Right:
The back corner was transformed into a meditation corner surrounded by a field of flowers and a shade garden.
Left: Pinks and pastels were the clients' favorite colors, so we placed them right next to the entertainment patio.
Right: A cycle of blooms created food for native pollinators and host plants for local butterfly species.
Chicago
Chicago (Ravenswood)

ABOVE
BEFORE WORK
:
Residential front yard of bungalow with major flooding issues stemming from roof-runoff.
BELOW
AFTER
:
Left (Year one):
Plants in July bloom cycle during the initial establishment of the garden.
Right (Year two):
Plants in August bloom cycle. Dry stack wall supported a deeper berm in front of the Rain Garden. More mature plants manage the water well.
Michiana, Michigan

ABOVE
BEFORE WORK
:
This vacation home was an open palette ready for the opportunity to enhance the wonderful sense of place that is Michiana. Native plantings were part of the base concept, using cultivated plants in the areas that surrounded "outdoor room" areas.
BELOW
AFTER
:
Left:
The grilling patio area became a home to a pizza oven, native ferns, phlox, Hakone grass, and Jack-in-the-pulpit.
Right:
The sunniest spot in the yard became home to field flowers and dunes open land plants.


ABOVE: Rain swales on the day of install in 2013.
Left:
Two years after installation, the 1st Rain Swale's yucca have bloomed and are working with the sedges to infiltrate water.
Right:
Late summer, the allium heads are just past bloom while the irises and sedges continue to thrive and reduce flow to the client's driveway.
Left:
A beautiful Sandy Creek flagstone designed path leads the way through a custom Sandbar Willow arbor for returning beach goers.
Right:
An imposing 5' ceramic bear statue guards the corner of the backyard and makes for conversation when viewed from hot tub.
Lake Forest, Illinois

ABOVE
BEFORE WORK
:
The owner of this elegant 1925 property wanted to create updated flower beds and foundation plantings for a more inviting entrance to their home.
BELOW
AFTER
:
Left:
Year two of the lamppost bed. The perennial bloomers are successfully cycling to create a constant and colorful bed.
Right:
Just after installing the side entrance to the property was planted with charming, shade loving ferns, Jacob's ladder, and native Hydrangea aborescens.


Evanston, Illinois
ABOVE
BEFORE WORK
:
Our Evanston client wanted to remedy the dangerous freeze/thaw icing on their back stairs and concrete patio.
BELOW
AFTER
:
Left:
A landing was created by rebuilding the stairs out the back door, providing flow to the client's favorite grilling area.
Right:
Rain water from the back roof of the house was diverted under a seating patio area to create a second, larger rain garden.

ABOVE BEFORE WORK:
A major concern of the client's was flooding by the garage door which made the area impassable in big rain events without rainboots.
BELOW AFTER:
Left:
Impervious concrete removed! By carefully regrading the property to put water where we wanted it and using pea gravel for better infiltration, all of the client's concerns were addressed.
Right:
No more icy stairs. The Northwest corner downspout was right off the stairs.
Chicago Rooftop In-ground Gardens

This client wanted a garden that would evoke the High-line in New York City and together we achieved his vision. He wanted a garden he could escape too with out all the fuss of kitchens. Using natives (in the foreground) we installed extrinsic gardens that could actually were green roof infrastructure style to support a garden, grow a small dogwood and have fresh herbs available. These beds were built and planted in collaboration with Chicago's Omni-Ecosystems. A light weight microbial activated medium was used to establish thriving plants.
Chicago (Albany Park)


ABOVE BEFORE WORK:
A proponent of sustainable landscape practices, this client said, "Out with grass!"
BELOW AFTER:
Left:
We created a Rain Garden large enough to manage rain water coming off of 1,000 sq. ft. of roof surface and two downspouts.
Right:
Puddling and ponding on the public walkway was successfully managed by creating an attractive dry stream bed.


Left:
When the client called us in, the architect had already designed their green roof to be built with Live Roof modules. We installed the roof and have cared for it ever since!
Right:
Raised beds made with galvaluminum siding and filled with organic vegetable soil were built in 2015 to replace the original repurposed barn wood beds that had begun to rot.


Cary, Illinois

ABOVE
BEFORE WORK
:
Originally situated in an old growth Oak and Hickory forest, the developers of this property came back through and created this steep grade from yard to street against the homeowner's wishes. Now dealing with shady Hickory and Oak understories as well as quick draining soil (the opposite of what we are used to seeing!), our client's faced a challenge at their new home.
BELOW
AFTER
:

This is the front border bed of our client's new perennial garden, full of native plantings and bursts of seasonal color.

ABOVE
BEFORE WORK
:
A peek of an Oak understory section of the garden, full of weeds and declining Mayapples.
BELOW
AFTER
:
Left:
This garden was designed to create minimal impact to the existing tree root matrix. The understory garden needed to be secured from hungry deer by a temporary fence while the plants could mature.
Right:
The view out of the client's Master bedroom became home to a few of the client's personal favorite cultivars.
FREE Rain Garden Guide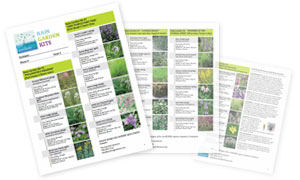 Not sure which plants will work for your particular combination of sun exposure and soil/moisture conditions? We've taken the guesswork out of the equation and put together creative plant combinations that are sure to beautify your yard. Sign up to receive quarterly updates on what we are doing to support the "Greening" of the world around us. Subscribe now! You can unsubscribe at any time.