Contact Us
We would love to assist in collaborating with you to create a garden that works for you and nature. Complete the form below. Look forward to hearing from you!
FREE Rain Garden Guide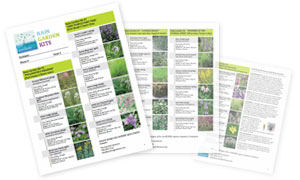 Not sure which plants will work for your particular combination of sun exposure and soil/moisture conditions? We've taken the guesswork out of the equation and put together creative plant combinations that are sure to beautify your yard. Sign up to receive quarterly updates on what we are doing to support the "Greening" of the world around us. Subscribe now! You can unsubscribe at any time.