About The Spirited Gardener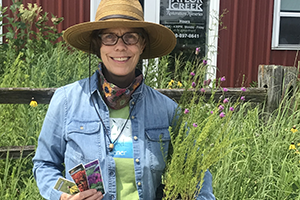 Owner of Spirited Gardener,Inc., Julia Bunn, is passionate about affirming the benefits of sustainable landscaping. After over 10 years of building landscapes that often include rain gardens in the Chicago area, she has shifted her focus to consultations, design and project management. Julia's truly enjoys teaching others how to responsibly manage their properties while creating beautiful gardens that can be enjoyed by home owners and our native wildlife. And mange rain water beautifully.
While working with Moore Landscapes on the City of Chicago Park District's Annual Floral Contract as a Landscape Designer, Julia expanded her abilities to work with AutoCAD drawings and large scale annual installations. Now she is bringing those skills back to her company that focuses on encouraging clients to seek a 70% regionally relevant plant palette in their landscapes to increase healthier pollinator and bird populations, and a truly living landscape. She seeks to assist clients in understanding why minimal chemical and pesticide usage in the home landscape is so important minimizing damage to the environments she builds with clients.
The Spirited Gardener keeps up to date with sustainable concepts through participation in classes like the
2018 Woodlands Field Seminars
that the Conservation Design Forum held based on
Flora of the Chicago Region: A Floristic and Ecological Synthesis
. This was lead by Gerould Wilhelm co-author of the book. Additionally she has taken Plant ID Training with The Pizzo Group, and attended the ILCA's
Impact Conference: Building Sustainable Landscapes
each year at the Chicago Botanic Gardens, which adopted the now defunct MELA's mission (Midwest Ecological Landscaping Alliance - Member from 2008 -2015). An active member of ELA (Ecological Landscape Alliance), Julia is currently working on an article to document the on going LEED Platinum Project she has participated in this year. Since 2006 she has been a member of the LDA (Landscape Design Association) serving as President in 2015, and as an active participant in professional development programs as well as presenter on Eco-functional Designs at the groups Design Workshops. Through this group she has been in workshops with Rick Darke (
The Living Landscape: Designing for beauty and biodiversity in the home garden
) and Darrel Morrison (Landscape Architect, and distinguished native landscape designer and educator and long time Wild Ones Honorary Director) She is a proponent of organic methods of pest control and amendments for soils and plants including Natural Lawn Care techniques. Her knowledge base is also expanding through classes at the Chicago Botanic Garden Professional Development Program from which she earned the Ornamental Plant Certificate in 2007 and took many of the Garden Design classes. In 2009, Julia trained to become a certified Aquascapes contractor for their RainXchange systems and a Green Roof/Green Wall installer.
Julia studied Chinese herbs at the Pacific College of Oriental Medicine. She also completed "Living with Herbs", an eight-month training program where she learned Western herbal traditions and growing techniques. This perspective assists clients interested in creating gardens with meaning.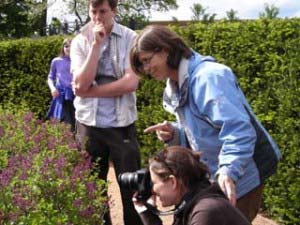 In 1995, Julia became a Master Gardener through the
University of Illinois Extension Service
. Her love of working cooperatively with others and her first hand knowledge of growing in the garden has evolved from working on school gardens and community spaces (NeighborSpace and LaSalle Language Academy) to working professionally as a landscape designer. She has been featured in the Chicago Tribune's Home & Garden section as a great gift idea for the holidays.
A graduate of the University of Colorado, Boulder, with a Bachelor's in Fine Arts, classes at the university included Ornithology and a graduate class in the Ecological Environments of the South West. This perspective has informed her vision as an artist and plant enthusiast ever since.
The Spirited Gardener: Television Promo
This is the promo video for the TV show Julia produced in 2008. This aired on Chicago's WTTW and has since produced several videos for YouTube on why to garden.
The Spirited Gardener: Is your garden for the birds?
This piece embodies a talk from Douglas W. Tallamy, author of Bringing Nature Home: How Native Plants Sustain Wildlife in Our Gardens.
The Spirited Gardener: IDNR Design Charette
This piece is a summary of a Sustainable Landscaping Brainstorming session that Julia participated in at the Illinois Department of Natural Resources.
Sustainable Solutions Blog
Julia has also published the following articles which you can enjoy by clicking on the links below.

Let's Continue to Root for Natives!
read article
Hope you enjoy the pieces and that they inspire you to consider planting more natives as you grow your garden!
FREE Rain Garden Guide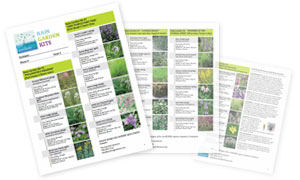 Not sure which plants will work for your particular combination of sun exposure and soil/moisture conditions? We've taken the guesswork out of the equation and put together creative plant combinations that are sure to beautify your yard. Sign up to receive quarterly updates on what we are doing to support the "Greening" of the world around us. Subscribe now! You can unsubscribe at any time.