During These Unprecedented Times of the Pandemic, the usual offerings for Rain Garden and Native Landscape Workshops have been curtailed.

We hope to be back on track in the summer of 2023 in collaboration with our client, Dana Pearl to be offering guided Rain Garden Walks with the Evanston Environmental Associations Annual Garden walk. The tentative date for that tour will be in June 2023. More TBA.
FREE Rain Garden Guide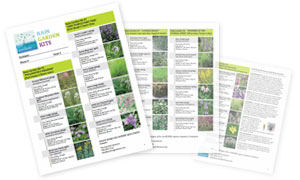 Not sure which plants will work for your particular combination of sun exposure and soil/moisture conditions? We've taken the guesswork out of the equation and put together creative plant combinations that are sure to beautify your yard. Sign up to receive quarterly updates on what we are doing to support the "Greening" of the world around us. Subscribe now! You can unsubscribe at any time.